O

k I'm a naughty blogger, not updating, but I'm back on the ball now and have got a cracker for ya.
I'm back at university now, and I am really enjoying myself. Third year, and its going swell, I'm on track to be a big Tv exec! Not really but at least I'll be well dressed when I fail. As well as that I have my little car still, I managed to bagsy myself some Glasto tickets, I'm getting more hours at my part time job at Schuh so I'm really happy at the moment!
As well as that, being back in Liverpool means I get to shop in some of the best shops everrrrr, 'cos Liverpool is a great city to shop in and work in. It's got L1 and Bold Street which is great for Charity shops and Vintage buys.
Anyway on with the OOTD - The shearling jacket is EVERYWHERE!! It's great for winter, it's cool, it goes with practically everything, and every shop has their own design so you and your friends can all have different designs. There is the classic aviator leather jackets, but there are also different types, such as the Denim shearling jacket, and the Parka shearling jacket. The cuff can be lined with fur and sheepskin or whatever furry material you like!
My particular jacket is a one-off from Oxfam for £20! It doesn't f
it perfectly but I love it! It's so warm and I can really wear it with anything. Here for your entertainment
I've paired it with a laid back outfit.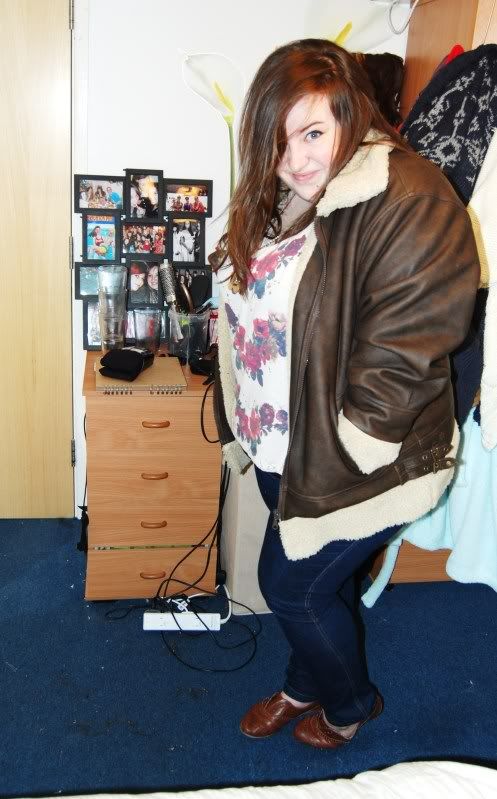 As you can see I went with the Aviator style, choosing the large collar, and turned up cuffs. The buckle detail is also really great and adds more dimension to the jacket. I put on some cheap style tan brogues from Primark and some ripped, torn jeans. This outfit is really comfy and I felt confident wearing it all day, as well as pretty damn on trend if I do say so myself.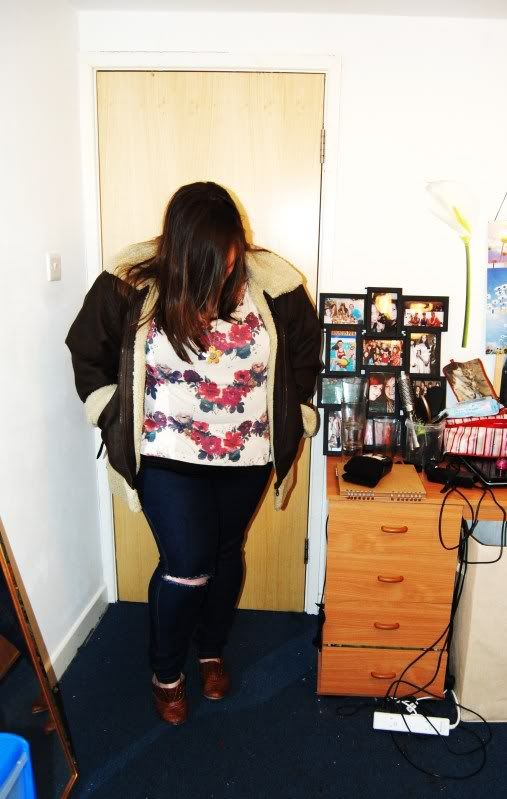 Like I say you can wear it with everything, I've seen it being specifically styled alot with tartan skirts so if that's something you like go for it!
Anyway I promise I've got more outfits coming including Velvet, Khaki, and Masculine trends.
What are you wearing this winter? Are you liking the shearling jacket or just sticking with your winter coat?
T-shirt - Asos Curve
Necklace - Muse (Manchester )