Oh yes. They definitely were. And that's just what they'll do.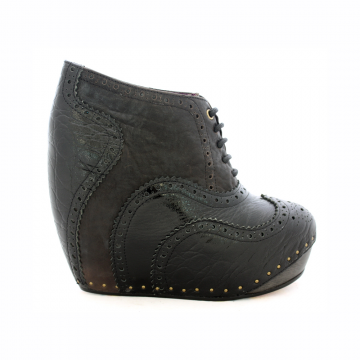 Black brogue wedges with studs!
Shoes are something bigger girls can always rely on, my feet will never change and I'm nearly always a size 7, apart from in Topshop who are bastards with sizing anyway.
I work in Schuh, I'm not sure if they're all over the world but they're definitely in the UK. They sell Irregular Choice, and I've always been a bit on the "they're too expensive for how naff they actually are" side of Irregular Choice, but they're a big seller, especially in Liverpool where the girls love high heels.
Now my store has not had these in. If they did I would definitely change my opinion on the brand Irregular Choice. And for this I am very angry, no outraged, at being withheld these works-of-art. I have been saving my 40% discount for something very special, and I cannot afford £125 on the Irregular Choice website. (I'm a size 7, euro 40 btw just in case anyone wants to buy me these)
I can't really walk in heels, but these with a hidden wedge and a not to high slope, and with being fastened in I can walk in wedges. I will wait and see if they come into Schuh, if not I'll have to suffer with some poor imitation from New Look for £25.
Which every Tom, Dick and Harry will have, although they are still lovely, just not as beautiful as the Irregular Choice. Guess I'll have to bite the bullet, stop moaning, get what I pay for and just lust after.
Anyway Bravo Irregular Choice, a beautiful, wearable shoe that anyone can wear.
xx